BASIS organises NASA Space Apps challenge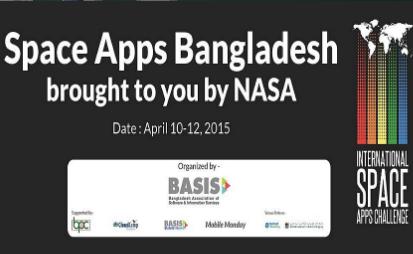 World's largest Hackathon by United States' Space Agency NASA, "International Space Apps Challenge 2015", is going to be arranged in Bangladesh for the first time. Along with over a hundred cities all over the world, the Hackathon will take place in Dhaka and Chittagong in the 10th and 11th of April. Also, anyone can participate in this competition on online.
To observe the competition, Ali Llewellyn, one of the founders of the International Space Apps Challenge and renowned speaker, will visit to Bangladesh.
The event will be organized in Bangladesh by Bangladesh Association of Software and Information Services (BASIS). The event will be implemented by its students' wing, BASIS Students' Forum. IBPC, CloudCamp and Mobile Monday will be supporting partners for the event. The event will take place in Daffodil International University in Dhaka and in International Islamic University of Chittagong in Chittagong.
Participants such as developers, engineers and designers will solve about 12 types of problems including Earth, Outer Space, Human and robotics.
All selected participants of the competition will be given certificates. Also, 4 winners from Bangladesh will get the opportunity to join the final stage, which will be held at New York.
To participate in the Bangladesh round of the event, registration must be conducted within 1st of April in the following link: http://bit.ly/1GKxQN8 . To know more about the event, participants can visit: https://2015.spaceappschallenge.org/.