Bangladesh-Kosovo establish diplomatic ties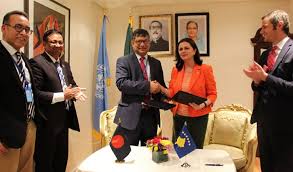 Bangladesh have signed a deal with European country Kosovo by which the countries established formal diplomatic relations. A press release received in Bangladesh on Saturday confirmed the matter.
On Friday, Masud Bin Momen, permanent Representative of Bangladesh to the United Nations, and Teuta Sahatqija, the Consul General of Kosovo in New York, signed the Joint Communiqué on behalf of their respective side.
The press release read that the document expressed the desire of the Governments of Bangladesh and Kosovo to promote the ties of friendship between two countries, widen the horizons of mutual cooperation and support the cause of international peace and security.
It further reaffirmed the commitment of both Governments to the principles of the United Nations and International Law, including mutual respect for national sovereignty, territorial integrity and non-interference in the internal affairs of another state.