Bill Gates richest man in world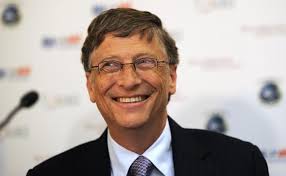 Microsoft's co-founder Bill Gates continued his reign as the world's richest person with a net worth of $75 billion, according to Forbes' annual ranking of billionaires, with Reliance Industries Chairman Mukesh Ambani leading the pack of 84 Indian billionaires in 2016.
Forbes' 2016 list of the World's Billionaires includes 1,810 billionaires, down from a record 1,826 a year ago.
Their aggregate net worth is $6.5 billion, $570 million less than last year.
Gates remains the richest person in the world with a net worth of $75 billion, despite being $4.2 billion poorer than a year ago. He has been number one for 3 years in a row and topped the list 17 out of 22 years.
Forbes said Ambani, 58, has retained his position as India's richest person despite shares of his oil and gas giant Reliance Industries taking a hit due to lower oil prices.
He is ranked 36th on the list with a net worth of $20.6 billion, the magazine said, adding that "the $62.2 billion (revenues) firm is likely to resume buying crude oil from Iran after the lifting of sanctions."
Occupying the second spot on the list is Spanish billionaire Amancio Ortega, founder of closing retail giant Zara and the richest man in Europe.
On the third spot is billionaire philanthropist and Berkshire Hathaway CEO Warren Buffett, Mexican billionaire Carlos Slim Helu (4) and Amazon CEO Jeff Bezos (5).
Ambani leads a pack of 84 billionaires from India, with pharma magnate Dilip Shanghvi (rank 44 and $16.7 billion networth), Wipro Chairman Azim Premji (55 with $15 billion networth) and HCL co-founder Shiv Nadar (88 and $11.1 billion networth) coming in among the top 100 billionaires.
Other prominent Indian billionaires include ArcelorMittal Chairman Lakshmi Mittal (135), Bharti Airtel's Sunil Mittal (219), Ports and power magnate Gautam Adani (453), matriarch Savitri Jindal (453), Bajaj Group's Rahul Bajaj (722), Infosys chairman emeritus N R Narayana Murthy (959) and Mahindra Group's Chief Anand Mahindra (1577).