Blackstones Solicitors' Launching Ceremony Held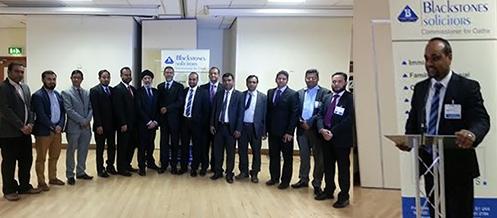 To mark the formal opening of Blackstones Solicitors, a forward looking new solicitors practice based in New Road, East London, the launch ceremony was held on last Friday, 10th April 2015m at the London Muslim Centre.
Professionals from different professional backgrounds including senior barristers, solicitors, accountants, journalists; businessman and community leaders were in attendance. Blacktones Solicitors intends to offer legal services in work areas including immigration, judicial review, advocacy and court's representation, criminal matters, family/matrimonial, landlord & tenant, litigation and benefit matters.
Amongst other prominent speakers, brief speeches were given by Judge & Solicitor Muhammed Belayeth Hussain, Mike Gapes – former MP for Ilford South, barrister Manjit S. Gill QC,
barrister Akhlaq Choudhury QC, Islamic Scholar Dr. Abul Kalam Azad, Councilor Unmesh Deshi, Shahgir Bakth Faruk- former President British Bangladesh Chambers of Commerce, Solicitor Sohul Ahmed and Abul Kalam Chowdhury. Blackstones Solicitor's Principal Mohammed Khaled Noor presides over and conducts the event.
Speakers highlighted that sincerity, trust and reliability is vital to the legal profession as it similarly important for any other profession or section to succeed. They expressed their views on the importance of friendly, reliable and resourceful legal service for the benefit of the clients and the benefit to the community at large and hoped that Blackstones Solicitors' will provide its legal service considering the need of the community and the best interest of the clients. Speakers in unison acknowledged and admired its founder and principal of the practice Khaled Noor's commitment to legal profession, his sincerity and his dedication to community engagements.
In his speech Blackstones Solicitor's Principal Mohammed Khaled Noor highlighted that his firm will endeavor to provide high quality and reliable service on matters related to immigration, human rights and detention matters in addition to others areas of law. He further noted that considering their vulnerability his firm will provide specialist service for husband or wife those who are facing immigration problems due to domestic violence incidents. He sincerely appreciates and thanks to his clients, professional colleagues, friends and family and seeks support from the community at large.