BNP stages protest rally in London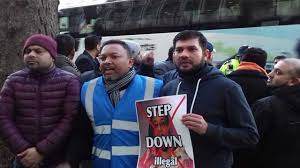 The United Kingdom unit of BNP staged protest rally in front of Bangladesh High Commission offices in London protesting the BNP Chairperson Begum Khaleda Zia's trial verdict.
Hundreds of party supporters carrying banners and placards gathered on Wednesday afternoon at the high commission premises.
They shouted slogans such as "Homes will burn if anything happens to (Khaleda Zia)", "I won't let my leader be imprisoned".
ACC lodged Zia Charitable Trust graft case against BNP chairperson Begum Khaleda Zia and three others with Tejgaon Police Station on August 8, 2011.
The BNP chief alleged that the government prosecuted her only to harass and malign her and by doing this the government was being abased.
She said that the first inquiry officer Nur Ahmed, also a prosecution witness, had not implicated her in the case but the last inquiry officer Harun or Rashid in two weeks implicated her and put some additional information.
Her lawyers also urged that the fund was a personal donation and Khaleda Zia had no link with the trustee board of the trust. She had no executive power as a prime minister when the fund was received.