British PM rules out second Brexit referendum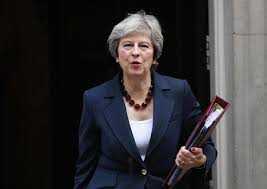 British Prime Minister Theresa May on Thursday ruled out holding a second referendum on Brexit despite calls from several MPs who argued her draft divorce deal with the EU was doomed.
"As far as I'm concerned, there will not be a second referendum," May said at a press conference in Downing Street.
Defiant in the face of mounting criticism, May added, "I believe with every fiber of my being that the course I have set out is the right one for my country."
May compared herself to legendary English cricketer Geoffrey Boycott, noting that he was hard to get out even if his run-scoring was sometimes slow.
Asked whether she would be able to "deliver the runs" for Britain, May said she would dig in and fight.
"Can I just say that you might recall from previous comments I have made about cricket that one of my cricket heroes was always Geoffrey Boycott," she said.
"And what did you know about Geoffrey Boycott? Geoffrey Boycott stuck to it and he got the runs in the end."
Boycott, who was known for his conservative batting style, scored over 8,000 runs in test cricket.
Meanwhile, The Northern Irish party propping up British Prime Minister Theresa May's minority government, the Democratic Unionist Party (DUP), wants a Conservative Party leader who will "deliver on Brexit," its deputy leader said following calls for May to resign on Thursday.
"There's a lot of machinations going on within the Conservative Party at the moment, we'll have to wait and see how that plays out," Nigel Dodds told Northern Irish broadcaster UTV.
"The leadership of the Conservative Party is a matter for the Conservative Party but what we want to see is a Tory leader that will actually deliver on Brexit and most importantly, match their actions with their words when it comes to the integrity of the union."