Corrupts must face trial: PM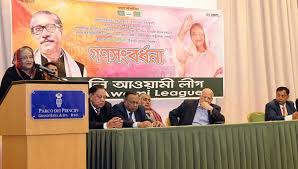 Prime Minister Sheikh Hasina has said those who will commit corruption and terrorism and get involved in militancy must be tried to ensure peaceful environment in the country.
"We want peaceful environment in the country. Those who will indulge in corruption, terrorism and militancy must face trial," she said.
The Prime Minister said those while speaking at a reception accorded to her by Italy unit of Awami League at Parco Dei Principi Grand hotel here on Tuesday.
She said the government wants to develop the country with changing the fate of people.
Regarding the corruption cases filed against her in the past, the premier mentioned that she had earlier called for conducting investigation into every case and submit its report.
"I had said that investigation will have to be conducted and report of every case must be submitted … we want to see what the merit of the case was?" she said.
"I'm the daughter of the Father of the Nation, and pursue the politics. Why should we indulge in corruption luxury?" she said.
About the recent verdict aginst Khaleda Zia and others, Hasina said the case was filed by Khaleda Zia's favourite people Moeen Uddin, Fakhruddin and Iajuddin. "Awami League didn't lodge the case."
"Being a former prime minister, Khaleda Zia whitened black money. Where that money came from?" she said.
The Prime Minister said whenever BNP comes to power it turns the country into a den of corruption.
Finance Minister AMA Muhith, Agriculture Minister Begum Matia Chowdhury and Foreign Minister AH Mahmood Ali were present at the occasion, among others.