Council of Mosques organises its annual gala dinner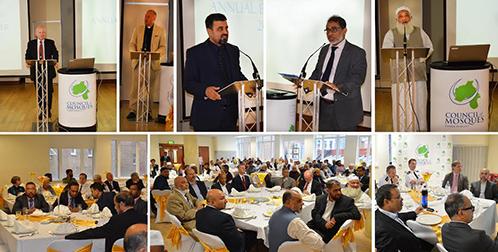 Council of Mosques Tower Hamlets organised its annual gala dinner on Monday 20th July where a number of leading and important community members took part.
The dinner represented an important opportunity for people of different faiths and backgrounds to come together, celebrate and renew commitments to each other and the wider community, to make it stronger and more cohesive.
Chairman of council of Mosques Hafeez Maolana Shamsul Haque presided over the meeting and Secretary General Hira Islam conducted the gala dinner. Guests who addressed the audience at the dinner included Executive Mayor of Tower Hamlets John Biggs, Deputy Mayor Sirajul Islam, former cabinet member Cllr Abdul Asad, Cllr. Andrew Wood, Chairman of Tower Hamlets Interfaith Forum Alan Green and others.
Executive member of Council of Mosques Mahmud Chowdhury discussed the importance of Ramadan.
Executive Mayor John Biggs said that people of Tower Hamlets have been suffering from a number of problems including housing. As people of Tower Hamlets have shown their support to him, it is his duty to work towards the alleviation of these problems. He also emphasised that even though different people believe in different faiths and pray in different places, it is his moral obligation to serve every member of the community equally. He also mentioned that he feels proud that people have given him the chance to serve the community.
Chairman of Council of Mosques Hafeez Maolana Shamsul Haque said that this gala dinner is to share the joy and pleasure of Ramadan and reveal the importance of Ramadan.
Secretary of Council of Mosque Hira Islam expressed his gratitude to everyone who attended the Dinner. He also said that it is not important that who is leading what, but to build trust and reliance among the organisation.