Council reaches out to Bangladeshi businesses as preparations for Brexit continue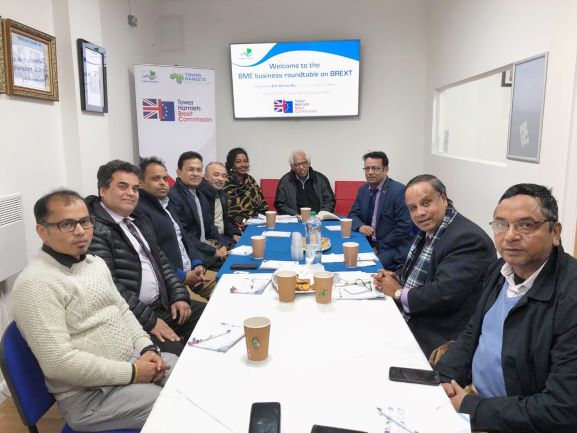 Bangladeshi business leaders have warned that uncertainty over Brexit is already having an impact on the fortunes of firms in Tower Hamlets.
The Tower Hamlets Brexit Commission held a round table discussion in Brick Lane with representatives from the telecommunications, construction, property, restaurant and media sectors. The event was chaired by Councillor Amina Ali.
Cllr Ali, Cabinet Member for Brexit and Chair of the Tower Hamlets Brexit Commission, said: "The Brexit Commission has been speaking to businesses across Tower Hamlets about the likely impact of Brexit on our borough.
"We wanted to hear from every part of our community and that includes small and medium sized businesses. We went to Brick Lane, one of the jewels in the crown of Tower Hamlets in the heart of Banglatown, to hear what impact it will have there.
"Our round table discussion raised a number of very interesting issues which will be included in the commission's report due to be launched next month."
The event looked at issues ranging from the increased cost of importing goods into the UK with a weaker pound; the downward trend in residential rental values; the upward trend in commercial rents; skills shortages in key sectors like construction and catering; as well as wider discussions on the future of the Brick Lane and Tower Hamlets economies more widely.
The business leaders relayed anecdotal evidence of nervousness around Brexit that was preventing firms from being able to plan for the future with the certainty they need.
Representatives from the construction sector reported that some larger developers had stopped building while they wait for the direction and nature of our departure from the EU to become clear. This hesitation on the part of larger firms is having a knock on effect on the smaller outfits that rely on sub-contracting as part of major projects.
The discussion also included consideration of the government's recently released proposals for a new skills-based immigration policy, prompting a debate on how the implementation of a minimum salary requirement would impact sectors, such as catering, where skills shortages and recruitment difficulties were already an issue.
This round table event will help to inform the final report from the Tower Hamlets Brexit Commission, due to be published in February. It will look closely at the likely impact of Brexit not only on businesses but also on the delivery of public services and on civil society.
John Biggs, Mayor of Tower Hamlets, said: "We are preparing Tower Hamlets for the impact of Brexit. The commission has already heard that sectors are experiencing pressures due to the uncertainty around what will happen.
"We are reaching out to all sectors and sections of our borough so we are prepared and so that the East End can continue to adapt and thrive."