East End designer lights up London Fashion Week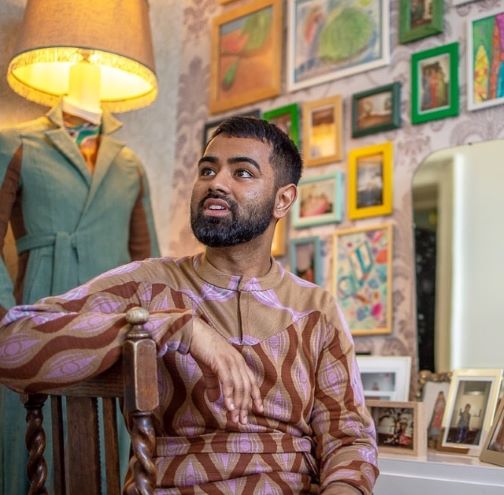 A council youth arts programme has provided a launch pad for talented designer Rahemur Rahman who showcased his first menswear collection at London Fashion Week 15-19 February.
In an interview with the BBC, Rahemur described how growing up in Tower Hamlets and taking part in classes and workshops provided by Tower Hamlets Council's 'A' Team Arts inspired him to put his creativity to good use and aim high.
'A' Team Arts coordinates youth arts programmes aimed at young people, aged 13 -19 years old and up to 25 years with special educational needs, who live or study in Tower Hamlets.
Proud of his East London heritage, his collection for London Fashion Week 2019 reflected the buzz of British Bengali life with an imaginative fusion of east and west.
The collection was displayed in a room setting with the models sitting as though posing for a family snapshot. A refreshing take on the traditional catwalk show givingthe viewer more time to appreciate the beautiful knits and prints.
Rahemur's collection of finely crafted garments is the culmination of a creative process which began 12 years ago when he first attended an 'A' Team Arts, as a 15 year old. The team has an experienced network of tutors and partnerships and have been expertly providing a number of classes and workshops to young people in the borough for 40 years.
John Biggs, Mayor of Tower Hamlets said: "Appearing at London Fashion Week is a fantastic achievement for Rahemur and I am proud the council has played a pivotal role in helping this young designer reach his potential. I hope more young people will take advantage of our free youth arts programme, which can lead to exciting opportunities."
Councillor Amina Ali, Cabinet Member for Culture Arts and Brexit added: "We are all very proud of Rahemur and showcasing his work at London Fashion Week is a big step in his career. Our arts programme is innovative and offers young people the chance to gain qualifications and learn valuable skills."
Rahemur's dedication and passion resulted in him achieving a Gold Arts Award with 'A' Team Arts in 2009, preparing him for life as a student at Central St Martin's College.
He is emphatic about the profound influence the council scheme had on his journey to being a designer.
He said: "I urge anyone at school or college looking to go into university to study creative arts or someone who just wants a creative experience, to go see what 'A' Team Arts have going on."
To find out more about free accredited courses on offer from 'A' Team Arts, including performing arts and music email geraldine.bone@towerhamlets.gov.uk or call 020 7364 7911.