East London Mosque buys the adjacent Synagogue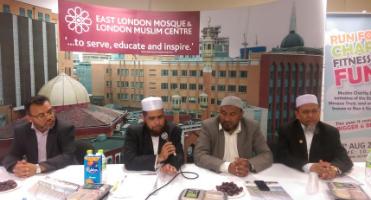 East London Mosque is now in the process of buying the synagogue which stands between East London Mosque and London Muslim Centre. The Mosque committee and synagogue authority has already completed the written agreement. East London Mosque Committee told this in a written statement in an Iftar Mahfil and press conference held on Tuesday 23rd June.
The committee mentioned that when the synagogue committee showed their interest in selling the property, the mosque committee expressed their interest and agreed on a price of 1.5 million pounds. This amount will need to be paid to synagogue authority by 15th July.
The committee also said that even though they need to pay off the loan of 2.9 Million pounds for Mariam Centre, however, buying the synagogue was very important for the mosque committee for it strategic position. They have asked for the support from the community members in acquiring this new property and pay off the debt.
In the written statement it was also mentioned that there will be special live fund raising event on Channel S on Saturday 27 June. This will be held from 3pm afternoon till the next Fazr prayer time.
In this live fund raising event, the mosque committee will urge for financial help to the community members for buying this synagogue.
When the new property will be acquired, it will be used for the different activities for the local community and the upper floors will be used to generate income.
The Committee leaders in the Iftar Mahfil emphasised that they have managed to establish and build East London Mosque, London Muslim Centre and Mariam Centre with the help from the community.
They expressed their hope that general members of the community will always be with them in future. With the support from the community they will be able to take this institute much further, the speakers said. Among those who were present in the Iftar Mahfil and press conference included Chairman of East London Mosque and London Muslim Centre Md Habibur Rahman, Secretary Ayub Khan, Imam and Khatib Shaiekh Abdul Qayum, Treasurer Muhammod Abdul Malik and Executive Director Delwar Hossain Khan and reporters and journalists from the local electronic and print media.