Eid festival celebrated in Trafalgar Square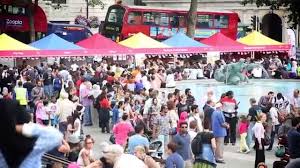 Thousands of Muslims have been celebrating the end of the holy month of Ramadan at a free festival in London's Trafalgar Square on Saturday.
The 10th Eid in the Square was organised by the mayor of London Boris Johnson who describes himself as being of Muslim extraction, by way of Turkish great-grandparents.
The festival was an opportunity for some to dress up and included an array of food stalls ranging from Malaysian to Turkish, to South Asian and Egyptian cuisine.
There were live performances from Nasheed artists such as Saif Adam and Suhail Ahmed and singers Jasraj Joshi and Tariq Khan, as well as arts and crafts, henna and face painting on offer.
Mayor of London Boris Johnson said, London is the best big city in the world, full of exciting cultural diversity. Eid-ul-Fitr is a great opportunity for Londoners to get a little flavour of what Eid is all about and the important contribution the Muslim community has made to the capital. I hope everyone has a fantastic day. "Eid Mubarak!
The Eid Committee is a voluntary body made up of representatives from various Muslim community groups and organisations in London, including the presenting partner Lebara and media partner Zee TV.
Neeraj Dhingra, CEO, Zee Network, Europe said, Multiculturalism is what London stands for and at the heart of all our entertainment across Zee Network channels. We are thrilled and excited to be the official media partner to celebrate the pious festival of Eid in the most iconic square in the country. We would like to wish everyone Eid Mubarak on this occasion and welcome one and all to the festivities in Trafalgar Square.
Lebara Mobile's UK managing director, Justin Cockerill, said, We are delighted to be associated with the Mayor's Eid Festival taking place in Trafalgar Square, London.
Eid marks the end of Ramadan when Muslims all over the world thank God for the gift of fasting that brings families and friends closer. Engaging directly with our customers has always been a key part of our success and the Eid Festival offers us the opportunity to do exactly that. We wish a happy Eid to all of our customers.