Farzana awarded by Lions Club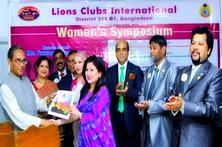 Ms. Farzana Chowdhury, Managing Director and CEO of Green Delta Insurance Company Limited, awarded in recognition of distinguished achievements in fulfilling the mission of Lions Club International.
Recently she received the award at 'Women's Symposium' which held in the capital.
Chief guest of the ceremony, Ln. Sheikh Kabir Hossain MJF, Hon'ble Past International Director of Lions Club International handed her the award.
She expressed her delight on receiving the award and wished to continue her initiatives to patronize women empowerment and leadership in Bangladesh.
Ms. Farzana Chowdhury was the Keynote Speaker of the symposium and spoke on Women development in national and international arena.
Ms. Farzana Chowdhury is a prominent insurance personality of the country. She is the first and youngest female Managing Director and CEO of Bangladesh from any Banking and Insurance Institutes.