First Saudi online restaurant booking site picks up speed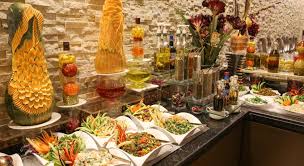 Saffiya Ansari: A trio of hungry-for-change Saudi entrepreneurs have kick started the country's first online restaurant reservation portal, YoTable.com.
Launched last month, the system allows users in Jeddah – soon to be followed by other cities – to book their table online when heading out for a meal and is available in both English and Arabic.
The brainchild of Rashed Islam, Reda Islam and Mahmoud al-Said, the site fills a gap in the market, according to one of its founders.
"We identified a problem, there was a gap in the market and it's a problem that many people face when trying to book a restaurant – myself included," Rashed Islam told Al Arabiya News.
When trying to book a table "phones go unanswered and all-in-all it can be quite a frustrating experience," he added.
"We came up with a much simpler system whereby you can store all the details in your online account so when you make a booking, it's instantly passed to the restaurant. You can even put in a special request that's passed to the restaurant," he said.
The system allows users to amend their booking online and even provides a number for the restaurant, a feature which shows "we are not in competition with the old system but, rather, we want the experience to be as flexible and as convenient as possible for the restaurant and the diner," according to Islam.
The site splits its restaurant options into categories based on national cuisines, with everything from sushi to Lebanese mezze and is mobile friendly, desktop friendly and tablet-appropriate.
Meanwhile, developers are currently working on an Android and iOS app to make the service more widely available to Saudi Arabia's tech-savvy populace.
Boasting the Arab region's highest number of active Twitter users, Saudi Arabia is no doubt a prime hotspot for online services, so why has it taken so long for businesses to catch on?
"We book everything online these days, we book our flights online, we book our hotels and cars online. It may just be a case that we are a little bit behind in Saudi Arabia when it comes to start-ups," Islam stated.
Another "hurdle" the trio faced was convincing restaurants to sign up to the service with the first restaurants on the database being offered a six-month free trial.
The reaction has been positive, Islam said, with more than 1000 diners signing up in the first two weeks.