French riot police spray chemicals on refugees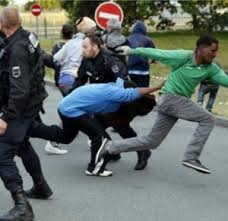 French riot police have sprayed migrants with a chemical irritant as they tried to storm the Channel Tunnel, and the British and French interior ministers said the nightly attempts to reach Britain are part of a "global migration crisis" that needs an international solution.
The migrants, who broke down several security fences late Saturday, were forced to retreat by riot police as they attempted to breach the final fence near the entrance of the 50-kilometer (30-mile) tunnel under the English Channel.
The migrants, estimated to number around 200 by an Associated Press journalist, faced off for close to an hour with security forces, chanting slogans including: "Open the border" and "We are not animals."
Thousands of migrants have been scaling fences near the tunnel, often referred to as the Chunnel, in recent weeks, trying to hop on freight trains or trucks destined for Britain. One man was fatally crushed by a truck.
Most of the migrants have fled war, dictatorship and poverty in Africa and the Middle East, entering Europe Greece or Italy before heading north. Many think Britain offers the best prospects, because of the English language, welfare benefits and the perceived ease of getting a job.
The migrant activity at the Chunnel — combined with a series of strikes by French ferry workers — have disrupted freight and passenger traffic, and spurred both governments to promise higher fences, more surveillance cameras and extra security guards.
In an article published in Britain's Sunday Telegraph and France's Journal du Dimanche, British Home Secretary Theresa May and French Interior Minister Bernard Cazeneuve said stopping the flow of migrants was "the top priority" for both governments.
But they added that the entire European Union must "address this problem at root."
They said many migrants saw the streets of Europe as "paved with gold" and "we must break the link between crossing the Mediterranean and achieving settlement in Europe for economic reasons."
The governments are keen to show a united front on this issue, but many British politicians have criticized France for supposedly lax security at the tunnel.