Global food prices on rise in March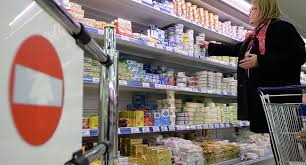 Global food prices continued to increase for the second consecutive month in March, according to the UN Food and Agriculture Organization (FAO) on Thursday.
The food price index averaged 172.8 points in March, up 1.1 percent from February, the FAO said in a statement.
The index also rose 0.7 percent annually in the month, the statement read.
The FAO Food Price Index is a trade-weighted index that tracks international market prices of five major food commodity groups.
"As in February, the month-on-month increase in March was driven primarily by stronger international prices of cereals and dairy whereas the prices of sugar and vegetable oils fell further and those of meat rose slightly," it said.
The dairy price index surged 3.3 percent or 6.2 points monthly in March as cheese and milk powder prices went up due to lower than anticipated milk production in New Zealand and strong global import demand, it said.
The cereal price index rose by 2.7 percent or 4.3 points, posting a third consecutive notable monthly rise, due to unfavorable weather conditions in the U.S and Europe.
The meat price index, on the other hand, remained stable in March compared to the previous month.
"At this level, the index is 3 percent above the corresponding month last year but still almost 20 percent below the peak reached in August 2014," it added.
FAO said the vegetable oil price index slightly decreased from February to reach 156.8 points in March.
"Modest price drops for soy, rape and sunflower oils were largely offset by higher prices of palm oil — the most widely traded vegetable oil in the world," the statement read.
The sugar price index dropped 3.4 percent month-on-month in March due to large export availabilities.