Grand Opening of 'Grand Sultan Tea Resort and Golf' at Srimangal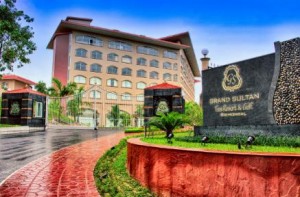 Grand opening of 5-star `Grand Sultan Tea Resort and Golf' the first ever five-star resort in country with an area of 13.6 acres of attractive land in the backdrop of scenic tea estates and undisturbed wilderness of Srimangal is going to be held on December 25, 2013 Wednesday.
Khwaja Tipu Sultan, Honorable Chairman of Excursion & Resorts Bangladesh Ltd. (Parent company of Grand Sultan Tea Resort & Golf), will formally announce the opening of the resort at the Grand Ballroom of the resort, namely, Rashni Mahal at 7-00 pm in the evening. A Grand Dinner as well as a fantastic musical performance by SOULS, the legendary band of Bangladesh, will follow this.
Since the date coincides with the Christmas Day, there will be plentiful entertaining arrangements for the children including wonderfully adorned Christmas Tree besides, fun-fare and gift hampers by the Santa Clause.
The 2-day long Opening Ceremony will end with another music fest performed by renowned singer Haider Hossain & Brothers. It might be mentioned that, besides the invited guests, people of all sects can also participate in the festivities of Grand Opening including the concert and the Grand Dinner at a cost of Taka four thousand only.
Grand Sultan strives to uplift the tourism industry of Bangladesh to a prestigious international standard. Sole target is to unearth the unending possibilities of the local tourism potential. This venture will bring about diabolic change in the socio-economic feature of Srimangal, as well as Bangladesh.
Present, among others, at the ceremony would be Managing Director of Excursion & Resorts Bangladesh Ltd. (Parent company of Grand Sultan Tea Resort & Golf) Sohel Hossain Ibne Botuta, Technical Director BKS Inan and General Manager Tony Khan.
It is also mentioned, the 9 storied building spread over an area of 2,00,000 sq-ft space offers 145 rooms with all sorts of state-of-the-art facilities. Out of these rooms, 45 are equipped with King Size and 43 are with Queen Size beds. There is an attractive 9-hole Golf course. Other games include Lawn Tennis and Badminton. In addition, there will be billiard and table tennis for them who love indoor games. There is special kids' zone at the resort for the children. In addition to these, the resort offers three pools including an amoeba shaped colossal swimming pool.
Other facilities of the resort include `Roshni Mahal' with a capacity of 1200 people and `Naomi Manjil' a banquette hall with a capacity of 750 people. The resort has three 5-star standard restaurants with the capacity of 330 persons named Fowara Dine, Shahee Dine and Arannya Bilash. The list also includes three cafes named Golf Paharika, Pool Deck and Café Mangal.
Facilities of special dimension will be offered for the corporate visitors. Needless to mention about the three gigantic meeting rooms located at the resort. What more, there will be the Spa, Sauna, Jacuzzi and message parlor in addition to an ultra-modern gymnasium for the fitness lovers as well.