Hasina 10th among 50 greatest world leaders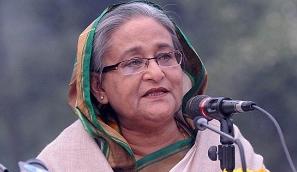 Prime Minister Sheikh Hasina has been ranked 10th among the 50 greatest leaders of the world for her role in transforming the world and inspiring others to do the same, according to a US magazine survey.
Fortune, a multinational business magazine published by Time Inc. and headquartered in New York city, conducted the survey.
The 50 greatest leaders — men and women — in business, government, philanthropy and the arts, and all over the globe are transforming the world and inspiring others to do the same, said the magazine on Thursday.
Jeff Bezos, founder and CEO of Amazon.com, Angela Merkel, Chancellor of Germany, and Aung San Suu Kyi, whose party won historic elections in Myanmar, are holding the first, second and third position respectively in the world's greatest leaders' list.
As the only female leader among the Organization of Islamic Cooperation member states, Hasina has deftly navigated the competing demands of Islamic tradition and women's rights, Fortune said.
She has committed Bangladesh, the nation with the world's fourth-largest Muslim population, to securing legal protections for women and helping them attain more education, financial freedom, and political power.
About 30 percent of adult women in Bangladesh now have at least a secondary education and the nation scores better on the World Economic Forum's Gender Gap Index than any other South Asian country, it mentioned.
Earlier in December last year, the Prime Minister had been named as one of the 100 leading global thinkers by Foreign Policy, a Washington-based prestigious magazine.
Hasina, according to the Foreign Policy, is among the 13 top global thinkers mentioned in a category – "decision-makers" – of the magazine of global politics, economics and ideas.
In February this year, Hasina was placed sixth in a list of the 10 top women leaders of the world. Globally reputed Time magazine published the list.