Hungary shuts down rail traffic for westward-bound migrants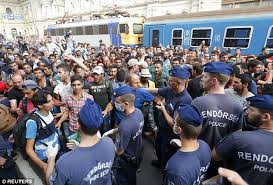 Hungary suspended all rail traffic on Tuesday from its main terminal in Budapest and cleared the train station of hundreds of migrants trying to board trains for Austria and Germany – the hoped-for end destinations in their flight from turmoil in the Mideast and Asia.
Migrants chanting "Freedom! Freedom!" congregated outside the station after being pushed out of the building, joining hundreds more in what has become a transit zone and place of refuge for those fleeing Syria's war and other hotspots.
Police acted shortly after authorities announced over station loudspeakers that all trains would be stopped from leaving for an indefinite period of time. Hundreds of passengers with travel documents and tickets remained in the cavernous station, some staring at information boards still showing arrival and departure times.