Imran Khan sworn in as Pakistan's 22nd prime minister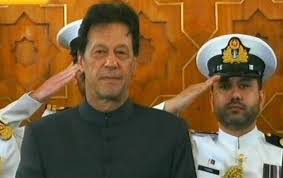 Pakistan's cricketer-turned politician Imran Khan was sworn in as the 22nd prime minister on Saturday, amid a string of political and economic challenges his country is currently grappling with.
President Mamnoon Hussain administered oath to Khan at the presidency in capital Islamabad, also attended by a veiled First lady Bushra Bibi — a faith healer –, outgoing caretaker premier Nasir-ul-Mulk, Chief of Army Staff Gen. Qamar Javed Bajwa, navy and air force chiefs, and other dignitaries.
Donned in black Sherwani — a traditional local dress — Khan together with his wife — clad in white burqa — stepped down the stage and mixed up with the guests to receive greetings amid loud clapping.
Several members of the winning team of 1992 cricket world cup — the only world cup Pakistan won in 1992 — and famous Indian cricketer Novjut Sindhu also attended the ceremony.
He later proceeded to the Prime Minister House where he was presented a guard of honor.
Khan's center-right Pakistan Tehreek-e-Insaf (PTI) emerged as the single majority party but still lacked a simple majority in July 25 elections, tainted by rigging allegations leveled by opposition parties, and some international observers.
The PTI secured 158 seats in 342-member house — 14 seats short of a simple majority — a composition that left him with no other option but to seek support of several smaller parties, some of them were his staunch opponents in recent past.
Pakistan Muslim League-Nawaz of the jailed ex-premier Nawaz Sharif trailed in second with 82 seats, whereas the center-left Pakistan People's Party, and a five-party religious alliance, Muttahida Majlis-e-Amal grabbed 53 and 15 seats respectively.