In memory of the London Nail Bomb attacks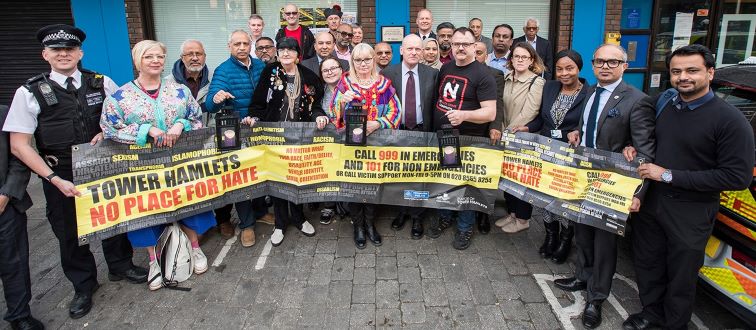 The 20th anniversary of the Nail Bomb Attacks in Brick Lane was marked on Wednesday 24 April by a memorial ceremony for the victims of the bombs. John Biggs, Mayor of Tower Hamlets, unveiled a commemorative plaque to the victims with Mark Healey, founder of Hate Crime Awareness Week. Will Tuckley, Chief Executive of the council, elected members, local residents and local activists held candles as Trudy Howson, LGBT Poet Laureate, read a poem to celebrate unity and inclusivity.
The council's award winning No Place for Hate team raised awareness about how to report hate, and recognised that Tower Hamlets was a place where 86 per cent of residents feel that people from different backgrounds get along together.
The 1999 London nail bombings were a series of bomb explosions that took place over three successive weekends between 17 and 30 April 1999.
Homemade nail bombs were detonated in Brixton, south London; Brick Lane in the East End; and in The Admiral Duncan pub in Soho in the West End.
Each bomb contained up to 1,500 four-inch nails. They killed three people, including a pregnant woman, and injured 140 people, four of whom lost limbs.
Statement by Mark Healey, founder of Hate Crime Awareness Week:
"These small acts of remembrance in Brixton 17th April, Brick Lane 24th April and Soho 30th , April are important because it shows that we have not forgotten the evil acts targeted at the Black, Asian and Gay communities of London that were carried out twenty years ago.
"It is a chance for us to remember those we lost – Andrea Dykes, John Light and Nik Moore killed in the Soho bombing.
"It is a chance for us to stand in solidarity with those who survived these attacked – the 47 people injured in Brixton, the 6 people injured in Brick Lane, and the 79 people injured in Soho.
"It is important that we provide an opportunity for all those affected by these attacks to be heard, and to ensure we educate future generations to build community cohesion and ensure we work together to prevent further acts of hatred being targeted against members of our communities.
"I hope that the people of Lambeth, Tower Hamlets and Westminster will continue to support 17-24-30 National Hate Crime Awareness Week to hold these acts of remembrance and make it clear that there is no place for hate in our communities.
"This is our opportunity to show London stands together, united against all forms of hate crime – attacks like these only serve to bring us closer together."
Statement by John Biggs, Mayor of Tower Hamlets:
"I'm very proud that we are home to Banglatown and our Bangladeshi community which has contributed so much to the East End. The recent history of our area sits on top of its historic role in welcoming people from elsewhere to London, who have then strengthened and shaped it by the culture and values they bring. This role in defining London's strength in tolerance and diversity is why Brick Lane was targeted by hate.
"I was a Councillor at the time of the Brick Lane nail bomb and remember the feeling of shock and fear it caused in the heart of our community. Our record in the East End is one of resilience against those that wish to divide us.''
Statement by BCU Commander, Sue Williams.
"This year on Wednesday 24th April we will remember those who were injured in the Brick Lane bomb attack that took place 20 years ago. It was the second of three nail bomb attacks. The first took place in Brixton on 17th April injuring 48 people and the third took place in Soho on 30th April injuring 79 people and killing 3. These despicable acts were committed with the sole intention of stirring up fear and hatred.
"The "17-24-30 NationalHCAW" work tirelessly to raise awareness of all hate crime. As well as organising the April Acts of Remembrance #AAR to remember those who we have sadly lost, they organise and plan National Hate Crime Awareness week, which this year runs from 12th -19th October. They are fully committed to supporting those who have been affected by hate crime.
"The Metropolitan Police stands alongside and supports all those who have been affected by these awful attacks. Hate crime has no place in society and it will not be tolerated, my officers at Central East BCU are committed to supporting the victims of hate crimes. We strongly encourage people to please report any and all incidents of hate crime, all reports will be taken seriously and thoroughly investigated so we can identify and robustly deal with offenders."