Indian HC office in Sylhet within 60 days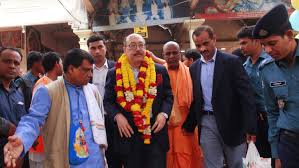 Harsh Vardhan Shringla, Indian High Commissioner to Bangladesh, has stated that the country will set up its newest consulate in Sylhet within the next two months.
The Indian envoy made the revealed the matter while speaking as the chief guest at a programme at the International Krishnavinamakarta Sangha (ISKCON) Temple in Sylhet on Friday.
"The office will be set up here so that people from Sylhet can easily get Indian visa," said Shringla.
"India-Bangladesh relationship is getting better day by day. Both countries are working together to prevent militancy and terrorism," he added.
Underlining India's support for Bangladesh during the Liberation War in 1971, Shringla said, "Same as before, India's love for Bangladesh continues."
While talking about the Indian government's funding for development projects in two ISKCON centers in Bangladesh, the High Commissioner  in ISKCON Savar, India is funding the construction of an old home and orphanage at a cost of Tk5.54 crores while in ISKCON Sylhet, construction of a five-storey student hostel is being funded with Tk 7.4 crores.
"An amount of 1.54 Crores has already been released to ISKCON Sylhet for this project," said the HC while he handed over a cheque of Tk1.05 crore as part of the next installment for the project.