Indonesia military plane crash kills 30 people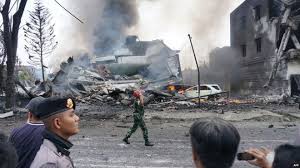 An Indonesian air force transport plane crashed Tuesday into a residential neighborhood in the country's third-largest city of Medan, killing at least 30 people.
Indonesian television broadcast images from the city of a downed Hercules C-130, crumpled vehicles and a partially destroyed building as smoke billowed and several thousand people milled nearby.
Adam Malik hospital spokeswoman Sairi M. Saragih said the hospital has received 30 bodies so far. She said two people from the neighborhood are critically injured.
The crash of the Hercules occurred not long before midday and just two minutes after the transport plane took off from Soewondo air force base.
Air force chief, Air Marshall Agus Supriatna, said the pilot told the control tower that the plane needed to turn back because of engine trouble.
"The plane crashed while it was turning right to return to the airport," Supriatna said.
There were 17 military personnel on the plane, he said.
It is the second time in 10 years that an airplane has crashed into a Medan neighborhood. In September 2005, a Mandala Airlines Boeing 737 crashed shortly after takeoff from Medan's Polonia airport, into a crowded residential community, killing 143 people including 30 on the ground.
Medan, with about 3.4 million people, is the third most populous city in Indonesia after the capital Jakarta and Surabaya.