The London Marathon is set to return to its original slot in 2023
Inspirational Runner MFA Zaman Completes the London Marathon 2021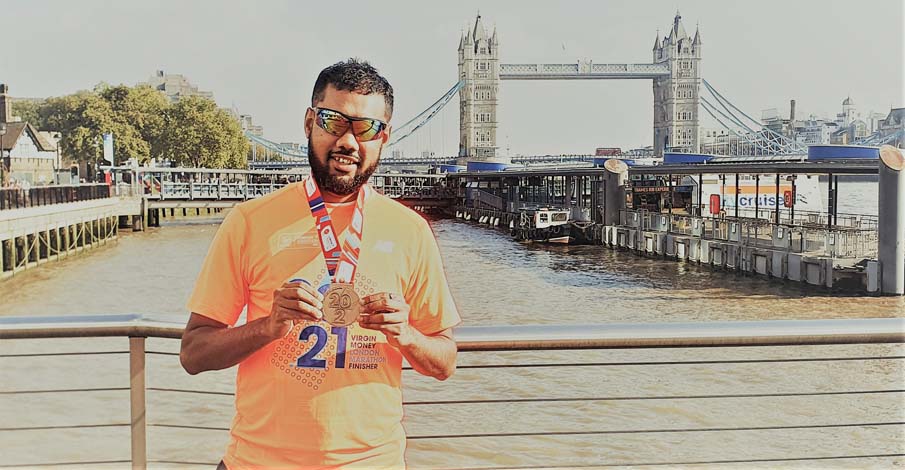 After more than two years of disruption because of the Covid-19 pandemic, the London marathon is officially back. It is back – after being cancelled last year as a result of the Covid-19 pandemic, the London Marathon has returned with over 40,000 runners taking part.
The London Marathon 2021 takes place on 3 October Sunday, exactly 889 days since the last time runners took on the Greenwich to Westminster course, with an incredible 100,000 runners set to push themselves to the limit in the annual event.
Londoner MFA Zaman completed the London Marathon 2021 to raise funds for disabled kids. He ran on behalf of British Charity Get Kids Going who is working hard to develop disabled kids age between 5-20 years old from every colour & race. They are specialist on sports training like rugby, athletics,
badminton, basketball etc. After the training these disabled kids are participated in world sports event like Para-Olympic, Commonwealth game and other sports events.
The London Ambassador of London Olympic 2012; MFA Zaman has involved with charity work for humanity from number of years. During Covid19
pandemic, he is a front-line NHS volunteer who has been awarded for his
service. He said, London Marathon 2021 was a big challenge for me even I ran in marathon before. Due to mental and physical health issue, the last few years I was not able to run in any marathon event. Because you must need to fit to run. You need training, healthy food and good life. But I had only 10 days
preparation before participating this year London Marathon. I was very keen to back on running truck. On August 2021, I ran in the London Interfaith Run which helped to get my confidence. But while CEO of Get Kids Going called, and offered to run in the London Marathon, I said 'Yes'. And I was able to complete another London Marathon to make a change. I hope, I would carry on the positivity to improve the life.
Also, I am really grateful to my Lord and those who encouraged, donated to
support ( www.justgiving.com/mfa-zaman) my challenge. Zaman ran in London Half Marathon, Bupa 10K, The Sure Run To Beat, Birmingham Half Marathon, Vitality Hackney Half Marathon, Muslim Charity Run and & Brighton Marathon. In Ramadan 2017, He walked 616 miles from Yorkshire to London for Jo Cox Foundation and Eden Project.
In a fitting celebration of the #WeRunTogether campaign, 35,300 people had crossed the finish line on The Mall by 6.30pm on Sunday. At the same time, thousands of people around the world took on the 26.2 miles challenge virtually, making the 41st edition of the race a truly memorable one.
Ethiopian Sisay Lemma had plenty to celebrate as the winner of the Men's Elite race in 2:04:01, at the London Marathon on Sunday. And in the women's race, Kenya took the honours for the sixth consecutive time, as Joyciline Jepkosgei won her title in 2:17:43. People from all different types of occupations run the race each year and footballers are no exception. Premier League winners
Michael Owen, Dwight Yorke, Gary Speed and Mark Bright are among those to have swapped their studs for a pair of running shoes.
London Marathon participants have raised more than £1 billion for good causes during the past 40 years.
The current London Marathon was founded in 1981 by Olympic champion and journalist Chris Brasher and athlete John Disley. The first London Marathon was held on 29 March 1981 where 6,255 crossed the finish line on Constitution Hill. London Marathon event director Mr Hugh Brasher, son of Chris Brasher, said, it will be one of the greatest days of the year for charity fundraising in times that have been incredibly difficult.
The event, which was postponed from its usual spring date due to coronavirus, saw some 45,000 people complete their own 26.2 mile route around the UK and in more than 100 other countries worldwide.
Though the 2022 race has already been pushed back to October – to ease any potential burden on the NHS after the winter period – the London Marathon is set to return to its original slot of April in 2023.