Islamic clothing firm opens first London store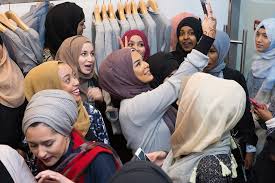 Islamic clothing firm Aab opened its first store in London to complement its online offering, the UK's Daily Mail reported Monday.
"We are very excited and delighted to be able to launch our first physical store for our clients in London," said Nazmin Alim, creative director of Aab.
"The city is a key market for us. It's one of the most important international centres of fashion," Alim added.
"This boutique store represents a physical manifestation of the Aab brand and heritage. It will enable us to present the premium quality of the brand authentically in an appropriate setting so our customers will be able to see, touch and feel our products in an environment we have carefully curated."
Aab, located in East London, welcomed more than 2.000 shoppers during the opening event.
The company was created in 2007 and specializes in conservative clothing.