JMG – Connecting the Community on Channel S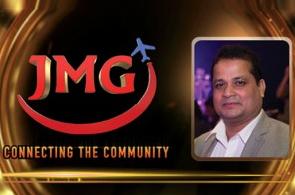 Channel S television is to broadcast a special programme on Britain's most popular cargo company, JMG Cargo's 12 years anniversary and awards giving ceremony.  The special programme will be broadcasted on Sunday 22 February at 10.30 pm, again on Monday at 12.30 pm and Wednesday midnight after one o'clock morning news.
The programme named as JMG: Connecting the Community, will mainly televise the event held at Water Lily Hall in East London where thousands of guests took part. The programme will also feature the award giving to the best agents of JMG and to the best new comers as agents.
Mayor of Tower Hamlets, MP, Politicians, media personalities, community leaders, officers of Bangladesh Biman and Heathrow Airport Cargo Handling officers were present at the event.
It is worth mentioning that Monir Ahmed, who achieved success in cargo and customs clearing business in Sylhet in his youth, started his cargo service business in Tower Hamlets with only one tabled office in very small feature.  His initial days in business passed in hardship and adversity.  However, soon he overcame the hardships and rose to success by his hard work and sincerity. He soon transferred the cargo business as a potential service industry.
Biman, the national flag career of Bangladesh, used to carry only 500 KGs of Cargo per month and now with the expansion of air-cargo service through JMG, Biman is carrying 150/170 thousands KGs of cargo per month. 70% of this is serviced by JMG.  There are 10 more cargo companies who are now in this air-cargo trade, following the footstep of JMG.
JMG has now seven branches in the UK and consists of 200 agencies.  It also has six agents across the Europe.  Around four to five hundred people are now employed through JMG.
JMG Cargo Chairman and Managing Director Monir Ahmed have requested everyone to watch the 12 years anniversary of JMG in Channel S.  He said that his achievement is to provide a service to the community rather than profiting from the business.