Khaleda Zia places wreaths at National Memorial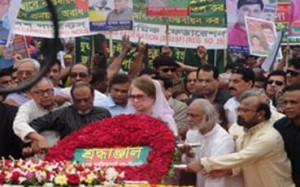 BNP Chairperson Begum Khaleda Zia paid placed floral wreaths at the National Martyrs Memorial here this morning marking the 44th Independence and National Day.
The BNP chairperson along with party leaders and workers placed wreaths at the altar of the National Mausoleum at 9.00 am.
BNP has announced various programmes to observe the Independence day in a befitting way. BNP Chairperson Begum Khaleda Zia in a messages greeted the people of the country on the occasion.