King Abdullah holds talks with US President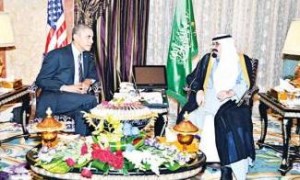 Iranian nuclear deal, Syria's three-year-old civil war and their repercussions on the neighboring countries were the central themes of the talks between Custodian of the Two Holy Mosques King Abdullah and US President Barack Obama on Friday.
The two-hour discussions between the king and Obama also focused on key bilateral and regional issues such as Gulf security, the Middle East peace process and Egypt.
During the talks, Obama reiterated the significance of his country's "strong relationship" with Saudi Arabia, said a White House statement released later in the day.
"Washington and Riyadh are working together to address a number of critical bilateral and regional issues, including resolving the crisis in Syria, preventing Iran from obtaining a nuclear weapon, counterterrorism efforts to combat extremism, and supporting negotiations to achieve Middle East peace," said the statement.
Obama said his country's strong relations with Saudi Arabia have "endured for over 80 years."
The king and Obama discussed ways and means to stop the genocide in Syria. According to an AP report, Obama is considering allowing shipments of new air defense systems to the Syrian opposition, as Obama sought to reassure the king that the US is not taking a soft stance on Syria and other Mideastern conflicts.
The two leaders met at Khuraim Gardens, an oasis located some 100 km northeast of Riyadh, where King Abdullah has a private farm.
Crown Prince Salman, deputy premier and defense minister, Prince Saud Al-Faisal, foreign minister, and Saudi Ambassador to US Adel Al-Jubeir attended the talks.
The US delegation included US Secretary of State John Kerry, National Security Adviser Susan Rice and newly-appointed US ambassador Joseph Westphal.
A Saudi official, speaking on condition of anonymity, said that the Kingdom wants the US to "shift its position" on support for Syrian rebels, particularly Washington's reluctance to supply them with surface-to-air missiles.
Khidr O. Al-Qurashi, a Shoura Council member, called on Riyadh and Washington to join forces to find solutions to the regional problems.
On whether Obama's visit to Riyadh came too late, Al-Qurashi said: "Better late than never."
According to him, the US administration is fully aware that the regional issues cannot be solved without active participation of the Kingdom.
Al-Qurashi expressed optimism that both sides would find solutions not only to the Iranian nuclear issue but also to the Syrian crisis and Lebanese issue.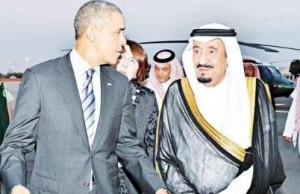 Referring to the talks with King Abdullah, US Deputy National Security Adviser Ben Rhodes told reporters that the issues at the heart of Obama's meetings with King Abdullah include "Gulf security, Middle East peace, Syria, Iran and Egypt." He said: "The United States and Saudi Arabia have been working together closely to coordinate their assistance to the (Syrian) rebels."
Rhodes said that coordination has helped put the US relationship with Saudi Arabia "in a stronger place today than it was in the fall when we had some tactical differences about our Syria policy."
Another US official said that the Obama administration was considering allowing shipments of new air defense systems to Syrian rebels.
Obama's possible shift would likely be welcomed by Gulf states, which have been pressing the White House to allow the man-portable air-defense systems, known as "manpads," into Syria.
Rhodes said Obama updated the king on the nuclear talks with Iran. He said Obama made the point that "the negotiations do not mean US concerns about other Iranian activities have lessened, including its support for Assad and Hezbollah, as well as its destabilizing activity in Yemen and the Gulf."
On the Middle East peace process, the Obama administration sought to keep peace talks between Israel and the Palestinians from falling apart over Israel's refusal to free about two dozen Palestinian prisoners, who were scheduled to be released Saturday.
King Abdullah hosted a banquet dinner in honor of Obama at his farm. Upon arrival at the venue, a warm welcome was accorded to the US president. He was received by Crown Prince Salman, Prince Saud and Deputy Crown Prince Muqrin, second deputy premier.
President Obama was received on arrival at King Khaled International Airport by Riyadh Gov. Prince Khaled bin Bandar; Prince Turki bin Abdullah bin Abdul Aziz, deputy governor of Riyadh; and Ambassador Westphal.