King Salman holds talks with Sheikh Hasina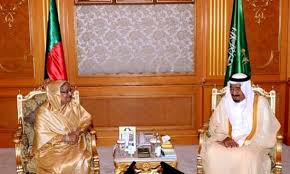 Custodian of the Two Holy Mosques King Salman received at Al-Salam palace on Sunday the Prime Minister of the Republic of Bangladesh, Sheikh Hasina Wajed.
In their talks, the two leaders "discussed the bilateral relations and prospects of cooperation between the two countries in various fields and reviewed the latest regional and international developments," the the Saudi press Agency said.
Attending the meeting were Prince Khalid Al-Faisal, adviser to the king and governor of Makkah region; Prince Mansour bin Miteb, minister of state, cabinet member and adviser to the king; Crown Prince Mohammed bin Naif, deputy premier and minister of interior; Minister of State and Cabinet Member Musaed bin Mohammed Al-Aiban; Minister of Finance Ibrahim bin Abdulaziz Al-Assaf; Minister of Culture and Information Adel bin Zaid Altoraifi; Minister of Foreign Affairs Adel bin Ahmed Al-Jubeir and Saudi ambassador to Bangladesh Abdullah bin Hajjaj Al-Mutairi.
Attending from the Bangladeshi side were Riyhana Sadeq, chief adviser to the premier; Foreign Minister Abul Hassan Mahmood Ali; the prime minister's Secretary Mohamed Abu Al-Kalam Azad and Bangladesh Ambassador to Saudi Arabia Ghulam Moshi.