King Salman presents King Faisal International prize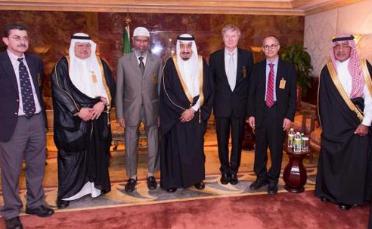 Custodian of the Two Holy Mosques King Salman presented this year's King Faisal International Prize recipients with their awards at a brief but glittering ceremony at Riyadh's Al Faisaliah Hotel, attended by foreign ambassadors, members of the Saudi royal family, and senior government officials.
The King received each recipient in turn, presenting them with their awards and posing for a photograph with each, but did not speak to those gathered for the awards ceremony.
This year's recipients were Dr Zakir Naik for Services to Islam, Dr Abdulaziz Bin Abdulrahman Kaki for Islamic Studies, Professor Jeffrey Ivan Gordon for Medicine, and Professors Michael Grätzel and Omar Mwannes Yaghi jointly recognised for Science, and were introduced by the Secretary General of the King Faisal International Prize, Abdullah Bin Saleh Al-Uthaimin.
The ceremony featured short videos outlining the work of the recipients, with each making a short speech after receiving their award.
During his acceptance speech, Dr Naik of India announced he would be donating his entire monetary award of SR750,000 to Assalam TV, the English language Islamic television channel he founded and is being recognised for with this year's Services to Islam award.
Dr Kaki said the prize would be an "incentive for me to complete what I have started."
Professors Grätzel and Yaghi both acknowledged the contributions of their coworkers and students, and thanked them during their acceptance speeches.
Throughout the rest of the week, this year's winners will be giving public lectures at a number of Riyadh's institutes and universities, including the King Abdulaziz City for Science and Technology, and the King Faisal Foundation Building.
The winners of the 37th King Faisal International Prize were announced earlier this month during a ceremony in the capital.
Usually there are five awards each year, including an award for Arabic Language and Literature, but according to the King Faisal Foundation that administers the Prize, the award in the language category was withheld this year because of "incomplete fulfilment of the prize requirements."
Prize recipients each receive a gold medal, a certificate hand written in Arabic calligraphy summarizing the laureate's work, and an endowment of SAR750,000.
The King Faisal Foundation website describes the Prize's aim as benefiting Muslims in the "present and future," inspiring participation in "all aspects of civilization", and enriching "human knowledge and develop mankind."
Nominations that comply with the Prize's general conditions go through a rigorous three-stage review and short-listing process, which includes specialized experts in each field, international referees, and selection committees that make the final decision in each category.
The prize was inaugurated in 1979 and has been awarded 37 times. Of the more than 230 King Faisal International Prize laureates to date, 17 have also received Nobel Prizes.
The prize was original inaugurated in three fields – Service to Islam, Islamic Studies, and Arabic Literature – with Medicine added in 1981 and Science in 1982.
In 2012, the KFIP committee was increased from six to nine members, all relatives of the late King Faisal.