Largest Eid congregation held in Sholakia Eidgah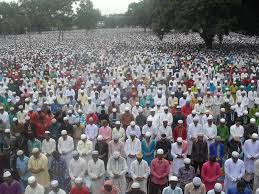 The largest Eid congregation of Bangladesh has been held at the historic Sholakia Eidgah in Kishoreganj. Over 300,000 people participated in the 188th congregation held in the field amid tight security measures.
Former director of Islamic Foundation and noted Islamic scholar Maulana Faird Uddin Masud conducted the congregation at 10am on Saturday.
Three gunshots were fired in the sky prior to starting the prayers as part of taking preparation.
Devotees were allowed to enter the ground through 28 entrance gates after undergoing a thorough search.
The entire ground was brought under a four-tier security net with deployment of large numbers of law enforcers including police, Rapid Action Battalion (RAB) and different intelligence personnel.
Deputy Commissioner of Kishoreganj and President of the Eidgah management committee GSM Jafarullah spoke at the gathering before starting the prayers.
A special prayer was offered seeking peace, welfare and prosperity of the mankind and the nation.
Special trains were operated on Bhairab-Kishoreganj and Kishoreganj-Mymensingh routes on the occasion.
Different TV channels covered the congregation live.
Locals said the number of devotees is increasing every year.
The first congregation on this ground was held in 1828 when a local Dewan, called Sayeed Ahmed (R) of Haibatnagar Dewan Bari of the town, conducted Eid congregation on one of the fields of his own "Taluk" (revenue zone).
The name of Sholakia came from "Shoa Lakh" where 125,000 people joined the Eid-ul-Fitr prayers.
Having about seven acres of land, the Eidgah maidan stands on the bank of Narsunda River.
The ground has the arrangement for about 265 rows with accommodation capacity of over 550 devotees in each row.