Legal notice seeks Nahid's removal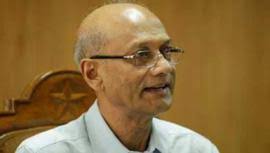 President Abdul Hamid and Prime Minister Sheikh Hasina have been served a legal notice, which requests them to fire Education Minister Nurul Islam Nahid for failing to stop question paper leak ahead of public exams.
Supreme Court Lawyer Advocate Eunus Ali Akond served the legal notice saying that the present education minister can voluntarily resign, or the Prime Minister can request him to resign. The legal notice also stated that the PM can advise the President to terminate the education minister under article 58 (1) (A) (C)(2) of constitution.
The lawyer said in the legal notice that if effective steps are not taken to remove the education minister, he will file a writ petition with the High Court seeking necessary order.
Eunus Ali Akond said in the legal notice that question paper of Primary School Certificate (PSC), Junior School Certificate (JSC), Secondary School Certificate (SSC) and High Secondary School Certificate (HSC) are being leaked every year but the present education minister has failed to stop the leakage of question paper.
As he failed to stop the menace, he has no right to hold the post, said the legal notice.
Eunus Ali Akond requested the president and PM to appoint a person who has outstanding competent in education sector and is highly educated but not a member of parliament as the education minister under article 56 (2) of the constitution.
The latest spate of question paper leak in the ongoing Secondary School Certificate (SSC) examinations is the biggest ever reported. Strict measures of the government, including steps to curb internet uses, are seemingly having little effect.