Lib Dem leader Kennedy dies aged 55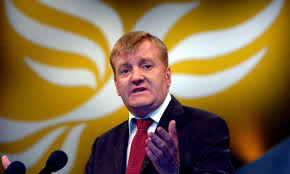 Former Liberal Democrat leader Charles Kennedy, one of the most colourful characters in Britain's parliament and an opponent of the Iraq War, has died suddenly aged 55, his family said on Tuesday.
"It is with great sadness, and an enormous sense of shock, that we announce the death of Charles Kennedy," said a statement.
"Charles died at home in Fort William yesterday. He was 55. We are obviously devastated at the loss.
"Charles was a fine man, a talented politician, and a loving father to his young son," it added.
Ambulance services alerted police after being called out to his home on Monday, but his death is not being treated as suspicious.
Prime Minister David Cameron wrote on Twitter that he was "deeply saddened" by the news, calling him "a talented politician who has died too young".
The Scotsman became the youngest MP of the time when he won the Ross, Skye and Lochaber constituency in 1983, aged 24.
He took over the leadership of the party from Paddy Ashdown in 1999, leading the party to its best general election result since the 1920s in 2005, claiming 62 seats on the back of his lone stand among major party leaders in opposing the Iraq invasion.
Ashdown paid tribute to his successor, saying that "in a political age not overburdened with gaiety and good sense, he brought us wit, charm, judgement, principle and decency"
Kennedy quit as leader in 2006 after confirming that he had received treatment for a drinking problem and lost his seat after 32 years at last month's general election as the Scottish National Party swept to victory north of the border.
Nick Clegg, the party's leader until last month's disastrous election that saw them win just eight seats, called Kennedy "one of most gifted politicians of his generation."
"He had an unusual gift for speaking about politics with humour and humility which touched people well beyond the world of politics," said Clegg.
"He was a proud Highlander, Scot and British Parliamentarian.
"He was one of the most gentle and unflappable politicians I have ever known, yet he was immensely courageous too not least when he spoke for the country against the invasion of Iraq."
Despite being at odds over the Iraq invasion, former prime minister Tony Blair said Kennedy was a "lovely, genuine and deeply committed public servant" adding that his death was "an absolute tragedy."
SNP leader Nicola Sturgeon wrote on Twitter that she was "sad beyond words," calling him "a lovely man and one of the most talented politicians of his time" while acting Labour Party leader Harriet Harman praised his "wit and humour" and courage in fighting for social justice.
Kennedy separated from his wife Sarah Gurling in 2010 after eight years of marriage and leaves 10-year-old son Donald.