Lloyds posts falling Q1 net profit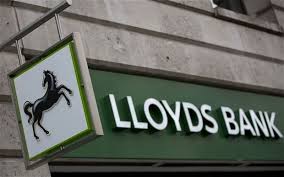 Britain's state-rescued Lloyds Banking Group announced that net profits sank by a fifth in the first quarter, after taking a charge against the disposal of its TSB retail division.
Earnings after taxation slid to £913 million ($1.40 billion, 1.25 billion euros) in the three months to the end of March, compared with £1.148 billion a year earlier, Lloyds said in a results statement.
However, pretax profit before exceptional items rose 21 percent to £2.2 billion in the reporting period boosted also by falling bad debts. That beat expectations of £2.0 billion, according to analysts polled by Bloomberg.
Lloyds — almost 21-percent state-owned after a bailout in the global financial crisis — took a £660-million charge linked to the sale of TSB to Spain's Banco de Sabadell. That partly reflected the cost of switching TSB to an alternative IT platform.
The mixed results were published one week after Britain's government sold another tranche of Lloyds, as it seeks to further cut the deficit before the general election on May 7.
British Prime Minister David Cameron has pledged to offer up to £4 billion worth of Lloyds shares to small investors at below-market prices, if his Conservative party wins next week.
Cameron's center-right Conservatives, in power since 2010 as part of a coalition administration, are neck and neck with the opposition Labour party in opinion polls.
Meanwhile, Lloyds added that revenues grew 3.0 percent to £4.6 billion in the reporting period.
"We have made a strong start to the next phase of our strategy to become the best bank for customers and shareholders, as we continue to support and benefit from UK economic growth," said Chief Executive Antonio Horta-Osorio in the earnings release.
"I am pleased with the continued improvement in financial strength and performance in the first quarter and expect our plan to deliver sustainable growth and improved returns."
In March, Sabadell clinched a £1.7-billion takeover of TSB. Lloyds will sell its remaining 50-percent stake in TSB, which it floated on the London stock market last year.
In order to meet EU state aid rules, Lloyds relaunched TSB as a standalone lender in 2013 before its IPO. Lloyds had been obliged to dispose of its remaining stake by the end of this year.
Britain still owns 20.95 percent of Lloyds after bailing it out with £20 billion of taxpayers' cash at the height of the 2008 global financial crisis.