London commuters battle Tube strike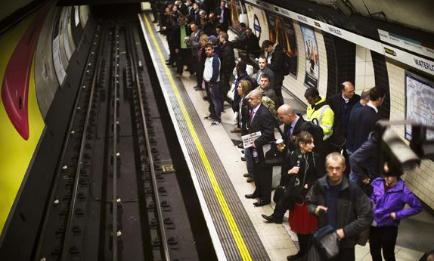 Millions of commuters struggled to reach work on Tuesday and Wednesday as London Underground train workers staged their second 48-hour strike this year to protest at job cuts and office closures in a dispute that is expected to cost businesses millions of pounds.
The walk-out that started at 2030 GMT Monday reduced the Tube network to limited services on nine out of 11 lines with extra buses and river boat services laid on to help the 3 million people who use the service daily get to work.
"It's unacceptable that millions of people are having their lives disrupted by today's Tube strike in London," Prime Minister David Cameron said on Twitter.
Transport for London (TfL), which runs London's public transport network, said thousands of staff and volunteers turned out on Tuesday to assist commuters, some of whom resorted to running, cycling or walking to get to work.
The walk-out, and a planned three-day strike next week, is over plans to close about 250 ticket offices and cut 950 jobs in a restructuring that TfL says could save 50 million pounds a year.
The Rail, Maritime and Transport (RMT) says the cuts will risk safety and quality of services but TfL says less than 3 percent of journeys on the 151-year-old Tube network involve ticket offices as most passengers use electronic travel cards and it has guaranteed no one will be forced from a job.
Mike Brown, managing director of TfL unit London Underground, said staff were doing all they could to keep London moving.
The action follows a similar two-day strike in February which crippled the train network but after a second walkout planned for February was averted to let talks take place. Those negotiations broke down earlier this month.