London Tradition receives Queen's Award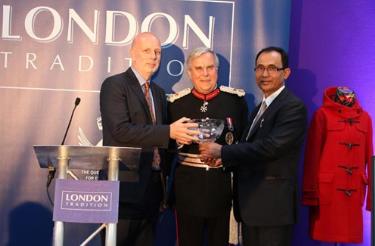 On 16 July 2014, London Tradition, a leading designer and manufacturer of luxury heritage outerwear was presented at an official awards ceremony and dinner with the Queen's Award for Enterprise chalice and certificate by Her Majesty's Representative, Sir David Brewer, CMG, The Lord Lieutenant of Greater London.
Sir David Brewer said:
"I congratulate the management and staff of London Tradition on receiving this tremendous award. It is always good to see London companies at the forefront of international trade. I am sure you will continue to go from strength to strength as ambassadors for the clothing industry, in Greater London, the United Kingdom, and on the international stage."
The awards ceremony was attended by Peers, MPs, High Commissioners, local Council Mayors, business leaders, and other dignitaries as well as several international customers.
Leaders from across London and the UK sent their congratulations including the Chancellor George Osborne and Boris Johnson.
The prestigious award was given in recognition of London Tradition's sustainable export growth of 865% and international success over six years. They have established export markets in different regions including Asia Pacific and Europe as a result of their high quality fabrics and hand finished craftsmanship.
Justifiably proud of this accolade, Mamun Chowdhury, Joint Managing Director, said:
"As a British company, based in Hackney Wick, London, it is fantastic to be recognised with a royal award. Having our suppliers and customers joining us at today's celebrations makes the recognition all the more special. It firmly establishes us as one of the UK's leading fashion brands and is something everyone at London Tradition has helped to achieve."
"Our success is due to a number of factors", said Rob Huson, Joint Managing Director. "We uphold the principle of delivering and exceeding customer expectations – in other words 'doing what we say'. Quality and attention to detail are hallmarks of our company's philosophy which is only possible because of the dedication and hard work of our highly skilled staff."
Earlier that week, both Managing Directors had attended Buckingham Palace and met Her Majesty The Queen at a special event for this year's award winners.