Londoners face travel chaos in tube strike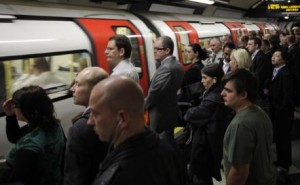 Millions of commuters face travel chaos this week as London Underground prepares for a two-day rail strike over planned job cuts and the closure of ticket offices.
The world's oldest and largest underground rail network, which carries three million passengers a day, will be all but shut down from Tuesday evening through to Thursday evening, with only very limited services running, leaving many Londoners unable to get to work and straining the bus network.
The two leading rail unions, the Rail Maritime and Transport (RMT) union and the Transport Salaried Staffs' Association (TSSA), called the strike to protest against plans to close ticket offices and cut nearly 1,000 jobs.
TfL, which runs the underground network, says the planned closures would save nearly 50 million pounds a year.
Another 48-hour strike is planned for the following week, from Feb. 11 to Feb. 14.
Tfl said it would try to keep as many stations open as possible, although the disruption was likely to force many employees to work from home.
The prospect of travel chaos dismayed many passengers on Tuesday.
"Without the tube it takes me about two hours to get to uni," said Connor, 20, a student at London's Metropolitan University. "I'm going to have to take the bus and it'll be packed."
Business lobbies have said previous tube strikes have cost the capital up to 50 million pounds per day.
The stoppage will start around 2130 GMT on Tuesday and disruption will continue until Friday morning, said TfL.