Look for Ramadan crescent on Sunday evening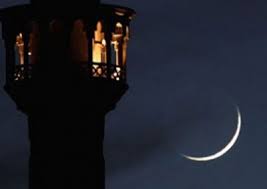 All Muslims across the world will look to sight the new moon for the month of Ramadan on Sunday evening 29th of Shaban (June 05) according to Islamic lunar calendar —Hijri; marking the beginning of the fasting month Ramadan on Monday. Otherwise, Ramadan is to begin Tuesday. If the sighting is confirmed Muslims will start fasting on Monday. Otherwise, Ramadan will begin on Tuesday.
In accordance with Islam, sighting the crescent at dusk on the evening of the 29th of Shaban (the eighth month of the Islamic lunar calendar known as Hijri) is the only way to determine the beginning of Ramadan.
The Hijri calendar's months begin when the first crescent of a new moon is sighted.
The same applies to the end of Ramadan, the ninth month of the Muslim calendar. Scholars and experts meet on the 29th of the month to decide, depending on if the crescent is sighted or not, whether to complete 30 days of fasting or announce Eid Al Fitr, the feast marking the end of fasting.
Also, Saudi Arabia's Supreme Court has asked all Muslims across the country to sight the new moon for the month of Ramadan on Sunday evening (June 05).
In a statement, the court also called on whoever sees the new moon to report it to the nearest court and register his testimony, or report to the authority of the region's center in their area.