Man charged with killing 3 Muslims to face death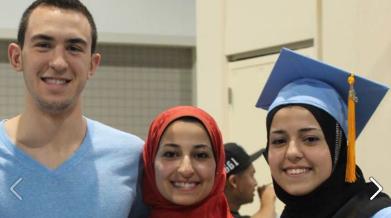 The man charged with killing three Muslim college students will face a death penalty trial after prosecutors told a judge they had strong and incriminating evidence that includes the blood from one of the victims found on the accused shooter's pants.
After a brief hearing Monday, Senior Resident Superior Court Judge Orlando Hudson Jr. ruled that Craig Stephen Hicks is "death penalty qualified."
Hicks, who remained handcuffed throughout the court proceedings, showed no visible emotion as the judge announced his decision.
He is charged with three counts of first-degree murder in the Feb. 10 killings of 23-year-old Deah Shaddy Barakat; his wife, 21-year-old Yusor Mohammad Abu-Salha; and her sister, 19-year-old Razan Mohammad Abu-Salha.
Durham County Assistant District Attorney Jim Dornfried said at the preliminary hearing that Hicks was taken into custody while in possession of a .357-caliber handgun that ballistics testing had matched to the eight shell casings recovered at the victims' apartment.
There was also gunshot residue on Hicks' hands.
Police have said Hicks, 46, appeared to have been motivated by a long-running dispute over parking spaces at the condominium complex near the University of North Carolina at Chapel Hill, where he lived in the same building as dental student Barakat and his wife.
Dornfried said Monday that Hicks had revealed details about the killings while under questioning by investigators.
"There were certain issues he described involving parking,"
Dornfried told the judge.
"He went and retrieved a firearm from his residence, then proceeded over to the residence of the victims. … The door was answered by Deah Barakat. There was a brief interaction, at which time the defendant pulled out his concealed firearm."
Dornfried said Hicks shot Barakat multiple times, then entered the apartment and shot each of the screaming women in the head.
He then pumped another slug into Barakat as he left the apartment, the prosecutor said.
After prosecutors asked the judge to approve the death penalty, defense lawyer Terry Alford declined to speak.
The victims' families are adamant that they were targeted because they were Muslims and have pushed for hate-crime charges.
They sat in the second row of the courtroom and declined the comment after the hearing.
The FBI is conducting what it has called a "parallel preliminary inquiry" to the homicide investigation to determine whether any federal laws were violated, including hate crime statutes.
Durham District Attorney Roger Echols said after the hearing that he does not anticipate filing additional state charges against Hicks, but that his office is cooperating with the federal inquiry.
To support the death penalty under North Carolina law, prosecutors must show Hicks' alleged crimes had aggravating factors – in this case that one of the murders was committed during a second murder, and that there was an act of violence committed with a second act of violence.
Search warrants listed a dozen firearms recovered from the condo unit Hicks shared with his wife, in addition to the handgun he had with him when he turned himself in after the shootings.
Hicks, who was unemployed and taking community college classes to become a paralegal, posted online that he was an atheist and a staunch advocate of the Second Amendment right to bear arms.
Neighbors described him as an angry man who had frequent confrontations over parking or loud music, sometimes with a gun holstered at his hip.
His social media posts often discussed firearms, including a photo posted of a .38-caliber revolver.
He had a state permit allowing him to legally carry a concealed firearm.
Hicks is being held at a state prison in Raleigh pending trial.