Masked men attack mosque in US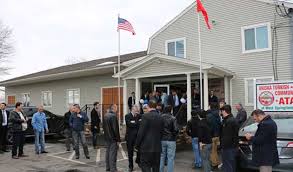 Masked men attacked a mosque in Massachusetts Wednesday that left several windows broken, an official and a community leader said.
The attack on the Ahiska Turkish American Cultural Center and Mosque in the city of West Springfield took place at 8.15 p.m. local time (0015GMT) when five unidentified masked men began hurling stones, Yasar Colak, religious affairs counselor at Turkey's Embassy in Washington, said.
"We are investigating whether the attack was motivated by Islamophobia," Colak told Anadolu Agency. "It is early to make a comment on this at this moment, but if we come to such a conclusion, we will take the necessary steps," he added.
Mehdi Osmanli, president of the mosque, said that there were three people inside at the time of incident and none of them got hurt.
He said that police came to the scene approximately one hour after the attack and launched an investigation.
The attack took place at a time when a rising wave of Islamophobia has led to an increase in threats against Muslims in the U.S.
The mosque, which was built by Turkey's Presidency of Religious Affairs and the Council of Ahiska Turkish-American Associations, opened in March.
Ahiska Turks, also known as Meskhetian Turks, were expelled in 1944 from their homeland – the Meskheti region in Georgia – by Soviet leader Joseph Stalin, in attempt to deport Turks from the shores of the Black Sea.