Mataf bridge open for pilgrims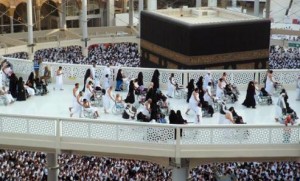 At the orders of Custodian of the Two Holy Mosques King Abdullah, President of the Two Holy Mosques Affairs Sheikh Abdul Rahman Al-Sudais, on Thursday opened the temporary mataf bridge for disabled and elderly worshippers.
Al-Sudais said that he was opening the bridge experimentally and the operational opening would take place today.
He said the 12-meter wide and 13-meter high bridge can accommodate 1,700 wheelchairs in one hour.
He added that one more level will be opened later and it will be linked to the first floor of the Grand Mosque. The bridge will be used by disabled people until the completion of the expansion work, the sheikh added.
The expansion of the mataf started on Nov.15.
The expansion is being undertaken at the orders of King Abdullah with the aim of increasing the comfort and safety of pilgrims. Custodian of the Two Holy Mosques Institute for Haj and Umrah Studies prepared a study on how to implement the expansion project.
The study recommended using the available space and potential of the mataf to the maximum while maintaining the architectural features of the Grand Mosque using advanced technology.
After the completion of the mataf expansion work, its capacity will increase to 105,000 pilgrims per hour. The capacity fell to 22,000 pilgrims per hour during the expansion period from 48,000 pilgrims.