Mayor John Biggs welcomes the announcement of 675 new council homes in Tower Hamlets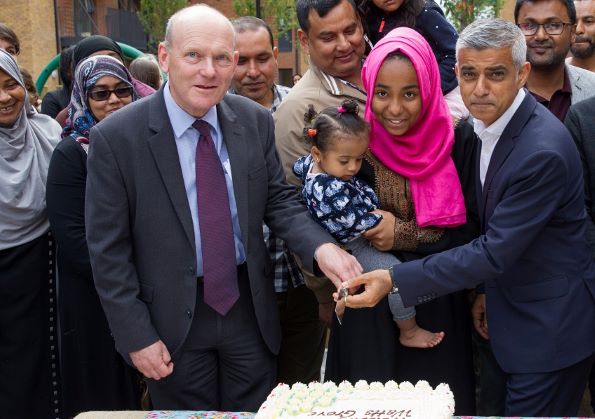 Tower Hamlets Mayor John Biggs has welcomed Mayor Sadiq Khan's pledge to allocate £13 million to Tower Hamlets to support the delivery of 675 new council homes at affordable rents over the next four years. This will contribute towards the Mayor's overall target of delivering 2,000 council homes by 2022.
This grant adds to the council's £85m funding for new council housing secured from council house Right to Buy receipts.
Mayor Khan announced that he had agreed plans worth more than £1 billion with 26 London boroughs to build 11,000 new council homes across the capital at social rent levels.
The funding comes through the Mayor of London's Building Council Homes for Londoners' programme, which Tower Hamlets successfully bid for funds from. The Tower Hamlets' programme includes 675 homes at affordable rent that will have started to be built by March 2022.
John Biggs, Mayor of Tower Hamlets, said: "Tower Hamlets has seen the largest increase in population in the country since 2001. Our current population is expected to grow by nearly 50,000 by 2026.
I am pleased that our bid for £13 million of funding from the Mayor of London has been successful. This will complement our existing programme of providing new council homes at genuinely social rents.
"I'm committed to deliver 2,000 new council homes by 2022 and am also working closely with the Greater London Authority and local housing associations, to deliver affordable homes. Last year we delivered the most affordable homes in the country but we are not complacent and will continue to make housing a key priority.''
Cllr Rachel Blake, Deputy Mayor for Regeneration and Air Quality said: ''We are seeing record levels of growth in the borough – we want that growth to benefit everyone and so it is vital that we build more genuinely affordable homes. It's really good news that City Hall is providing funding for our Council home building programme, supporting us to create great places where Tower Hamlets residents can thrive.''