Meeting of Biman MD and UK Biman approved Travel Agency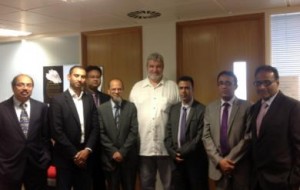 UK Biman Approved Travel Agents Association held a meeting with Biman MD on his way to Dhaka on Sunday 9th June 2013 at Heathrow Office. In the meeting were present-
1.    Mr Kevin John Steele – Managing Director & CEO , Biman
2.    Mr Atique Rahman Chisty – Country Manager UK & Ireland, Biman
3.    Mr M Askir Miah- Director, Surma Travels Ltd.Vice-Chair – UKBATAA
4.    Mr Helal U Khan- Proprietor, Hillside Travels. Vice- Chair-UKBATAA
5.    Mr Shomsul Hussain- Director, Hussain Travel Ltd. Joint Secretary-UKBATAA
6.    Mr M Imran Hussain-Director, Rahman Travels Ltd. EC member-UKBATAA
7.    Mr A K M Yahya- Director, Aerospace Ltd. EC member- UKBATAA
8.    Mr Nazrul Islam- Proprietor, Alamin Travels. EC member- UKBATAA
9.    Mr Muzirul Haque-Director, Air Express Ltd. EC member –UKBATAA
The Association discussed Fares reduction, Baggage allowance, early reporting, sylhet-lhr flight, ticket re-issue, education trip etc. It was agreed that proposals would be considered and baggage allowance may be shown on ticket. Passengers holding ticket issued from 22 May 13 and flying out by 30th June 13 will benefit from inbound baggage allowance of 40kg. Biman agreed to allocate front/priority seat to passengers arriving early to check in to improve punctuality of flight. The Sylhet to Heathrow direct flight will only be possible when re-fuelling facility will be available in Sylhet that is down to the government of Bangladesh.
The Managing Director Mr Kevin John Steele gave his vision for making Biman profitable by the end of next year which he shared with the Honourable Prime Minister of Bangladesh Sheik Hasina by having a stanby aircraft, refueling in Sylhet, starting MAN, NYC flight, adding 2 or 4 Boeing 777, more domestic flights from November, Frequent travellers card, on line checking, doubling the fleet, more London flights, Punctuality now 60% take it to 80%, Improve customer service, win major awards, join ventures, upgrade facilities, complete innovation, website improvements, cargo warehouse improvement and CCTV, centre of excellence, training centre, 2nd hanger, ER's appraisal, flying school accredited with different recognised bodies, catering improvements, in-flight magazines, strategic partnerships, crew swap, etc.