Mfa Zaman Walks 616 Miles In Ramadan For Change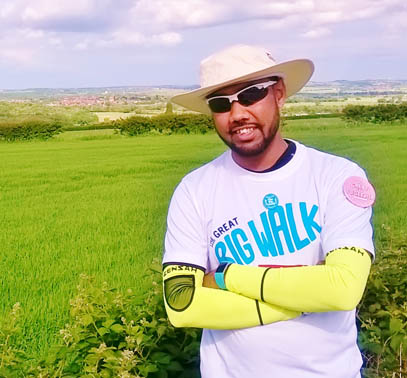 Life is a full of challenge and Mfa Zaman walks in Ramadan from Yorkshire to London. The Big Lunch and the Eden Project are organising The Great Big Walk to tie in with The Great Get Together. Five teams of two walkers will walk from Batley in West Yorkshire to London, Scotland, Wales, Cornwall and Northern Ireland. Mfa Zaman is only a Muslim who became the London representative in The Great Big Walk.
On the weekend of 16-18 June, the anniversary weekend of the murder of Jo Cox, former MP for Batley and Spen, the Jo Cox Foundation & Eden Project are organising what it hopes will be the biggest street party since the Jubilee: The Great Get Together.
14 Walkers have started walk in 29 May 2017, arriving for a Big Lunch / Great Get Together event on 18 June. Each day walkers will be visiting community groups along their route to shine a light on the people and projects fostering community spirit.
Zaman said,  It is a big honour for me to be part of The Great Big Walk.  I am a man who's passionate to prove & bring the change with hope and peace. I was a London Ambassador in London Olympic 2012 and I hope I will walk as an Ambassador of Peace in The Great Big Walk. It is a big challenge to me because it is in Ramadan while I will fast 18+ hours with 2.8 million UK Muslims. We Muslims don't take anything even water during fast so it is a massive task. Inshallah in this Holy Month of Ramadan I would try my best to share message of peace and confident to complete The Great Big Walk.

The Great Big Walk started from Monday 29 May from Batley, West Yorkshire.  The Big Lunch began since 2009. It is UK's biggest annual get together for neighbours which bring people in one platform. In 2016; 7.3 million people participated at 90,000 events. Zaman said, I am really grateful to Eden Project, Near Neighbours and Jo Cox Foundation to nominate me for this golden opportunity to bring and make a change in British community.  I would encourage everyone to get involved and open your community hall, mosque, church, synagogue, temple, vihara. Let's invite your friends, neighbours for lunch, dinner and if you are Muslim the invite them to share Ifter.
I am spending lots of time to our entire British Communities to establish peace with hope where people from different background, colour, ethnicity etc. We are divided but we need a platform to break this barrier to make this country strong. And I believe The Great Big Walk is the platform the nation needs to encourage bonds between us and make this country strong.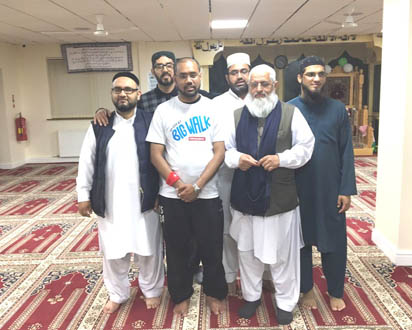 I will walk from Yorkshire to London. On the way I will meet with people from different communities and share my experience. I hope that they will get a message from me which will inspire and encourage them to stand together with sympathy, passion and love. I am always determined and positive to bring and prove change. I hope I could work with the sprite of late Jo Cox MP who had a dream to make a better community where people will live together with peace, love and harmony. But this is not end because I am dedicated to bringing positive change, hope and peace to communities across Britain, among people from different background.
The London Ambassador of London Olympic 2012; Mfa Zaman has involved with charity work for humanity from number of years. He runs in London Marathon and others run's event to raise money for disabled kids. He was trustee of Volunteer Centre Lewisham. Also he is member of Team London, Newham Cricket Club, Universal Peace Federation, Near Neighbours, St Johns Ambulance and Bart's Health NHS Trust. Also He is an Umpire of ECB.