Millennials are saving the UK curry crisis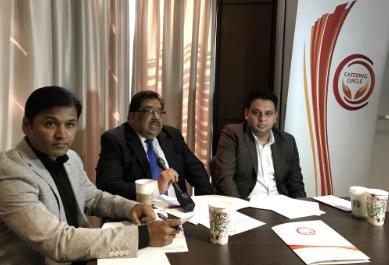 Up to 700 curry house owners from all over the UK will come together at the Business Conference 2018 and Restaurant Talent Show Awards on Wednesday 25th April at the Meridian Grand, Advent Way, London, N18 3AF from 5pm to 11pm.
A growing group of Millennials who run and own curry houses will discuss solutions they have found to the curry crisis which has been affecting the industry over the last couple of years with huge numbers closing every week.
Curry has been one of Britain's most loved food since the 1940s. Currently it is a huge industry generating over £4.1 billion for the economy with over 12,000 outlets in the UK from big cities to the smallest of villages. Yet the industry has been struggling to survive weighed down by staff shortages, immigration laws and competition from supermarket giants.
In response to the national curry crisis, the Bangladeshi Community TV Channel S (SKY 814) established a media platform entitled The Catering Circle in 2015 in a move to bring together the Business owners of the Curry Industry and seek about addressing the issues they are facing. They conducted focus groups, debates, a regional roadshow gathering important data and evidence of issues being faced resulting in a TV show pulling in wider national audiences into the discussions.
Over the last 12 months, the Catering Circle has conducted a restaurant talent show and found 12 'winning' restaurants who have come up with innovative solutions to help revitalise their business- with most winners coming from the younger generation. These solutions will be shared at the Business Conference 2018.
Md. Abdul Haque, Founder of the Catering Circle and Executive Producer of "The Catering Circle Show" says: "The Catering Circle platform keeps getting bigger and better and we have created a network within the sector which truly keeps growing. I'm delighted to see that the younger generation are bringing fresh and innovative ideas to the forefront which are revitalising our industry created by their forefathers. Our sole focus for the Season 3 TV show will be to concentrate on the topic of Menu Innovation and Pricing. We believe that is fundamental to unlocking the current UK Curry Crisis"
Ahmed Us-Samad Chowdhury JP, Chief Advisor to the Catering Circle, Chairman of Channel S TV and one time owner of 10 restaurants says: "The work we have done this year highlights the great achievements restaurants are making in order to turn the Curry Crisis around. By working as a community we are sharing and solving issues and I hope the Business Conference will promote the solutions to all those suffering and in need"
"The Catering Circle Show, Season 3  will air on Channel S (SKY 814) this Summer.