Miss England contestant in hijab first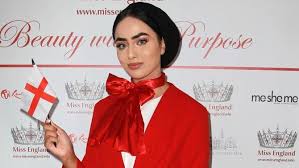 A Miss England contestant is set to wear a hijab in the finals on Tuesday, in a first for the organization.
Sara Iftekhar, a law student, is among 50 competitors for the Miss England crown and hopes to become the first Muslim winner.
"It just proves Miss England represents the way England is today," competition spokeswoman Angie Beasley was quoted as saying by the Daily Mail newspaper.
Iftekhar, 20, has already won the Miss Huddersfield title, representing the northern English market town.
She is a make-up artist and often shares pictures of herself wearing traditional Pakistani dress on social media.
The student started a clothing business aged 16.
"I may be the first woman to wear a hijab. However, I am just a regular girl and we all have a fair opportunity in this contest," the BBC quoted her as saying.
"If I want to cover myself up and dress modestly why should that be an issue? I am just like the other contestants."
The first stage of the competition was held in July, including the sports beach beauty, top model, beautiful mind and publicity rounds.
"Here is a vibrant, confident young woman who is proving, on a huge platform, that beauty comes in many forms, that Muslim women in hijabs can be beautiful, and that we can own our beauty," wrote Iqra Choudhry in The Independent online newspaper.
"The fact that she's reached the Miss England finals is something that should be celebrated by the Muslim community, and by women at large."
Tuesday's events in the second stage at Kelham Hall in Nottinghamshire, central England, will round up the ethical fashion show, talent and evening wear catwalk sections of the contest.
Public voting by text message closed at midday (1100 GMT) on Tuesday.
The 2018 Miss World finals are being held in Sanya, China, in November and December.
Miss World started in 1951.