Mo Farah brings Olympic dream to Tower Hamlets children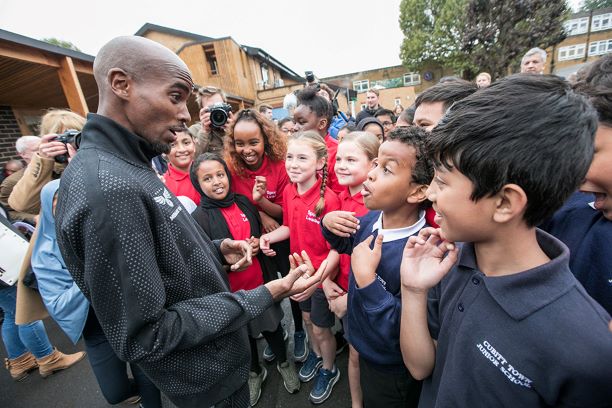 John Biggs, Mayor of Tower Hamlets joined Olympian hero Sir Mo Farah and Sadiq Khan, Mayor of London today at Cubitt Town Primary School to support the participation of all London schools in The Daily Mile.
The Daily Mile began in 2012, the year of the Olympics, as an idea to tackle children's lack of physical fitness. Today Tower Hamlets leads London in the percentage of schools that are signed up to it.
Support for The Daily Mile health and wellbeing initiative has grown significantly since research findings showed that children participating in it were significantly healthier than those who did not. The national health initiative is effective in boosting activity levels and improves overall fitness and body composition.
London boroughs worryingly make up seven of the ten worst-ranked authorities in England for obesity rates.
John Biggs, Mayor of Tower Hamlets said:
"Tower Hamlets was an Olympic borough in 2012 and those aspirational games are part of the heritage of our children.
"I am proud we have more schools signed up to the Daily Mile than any other borough in London, but we will continue to work with schools, businesses and other partners to develop opportunities that contribute to the ongoing health and wellbeing of our residents."
Sir Mo Farah said: "The Daily Mile is a brilliant and easy way to get kids moving and keeping healthy. I'm a dad of four and I encourage my kids to be active every day. It would be fantastic to see every primary school in London signing up to do The Daily Mile."
Hugh Brasher, Events Director at London Marathon added:
"Britain has an obesity crises. Just 15 minutes of exercise every day can transform the health and wellbeing of children and the Daily Mile allows them to exercise in their school clothes.
"We couldn't have a better ambassador than Mo and we will continue to work to get more primary schools signed up to the initiative.
"Tower Hamlets is the beacon for other London boroughs to follow."