Moon praises Saudi humanitarian efforts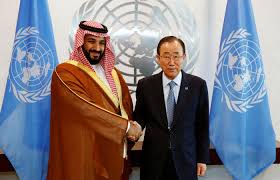 Saudi Prince Muhammad Bin Salman, second deputy premier and minister of defense, discussed with UN Secretary General Ban Ki-moon issues relating to Syria and Yemen during a meeting at UN headquarters on Wednesday.
They also reviewed Saudi efforts in supporting the UN in all relief and development fields and maintaining peace.
Ban praised the assistance provided by the Kingdom to displaced Syrians.
He also praised the Kingdom's leading role in the region and the world and its strong support for the UN and its institutions since its establishment.
He looked forward to strengthening these partnerships in future.
Prince Muhammad arrived in New York on Wednesday after a visit to Washington and the US West Coast.