More than 130,000 dead since Syria conflict began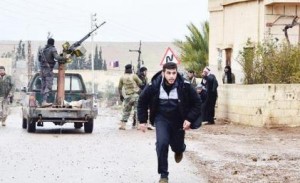 More than 130,000 people have been killed since the beginning of the conflict in Syria nearly three years ago, the Syrian Observatory for Human Rights said on Tuesday.
In a new tally, the group said 130,433 people have been killed since the conflict began in March 2011, among them 46,266 civilians.
They include more than 7,000 children and more than 4,600 women, the Britain-based watchdog said.
The group said 52,290 pro-government fighters had been killed, among them more than 32,000 regular troops and 262 reinforcements from the Lebanese Shiite movement Hezbollah.
On the rebel side, the group counted 29,083 deaths, including 6,913 fighters from groups like the Islamic State of Iraq and the Levant.
The Observatory said it had also recorded the deaths of 2,794 unidentified individuals.
Syrian activists said a missile struck a bus in a rebel-held area of the northern city of Aleppo, killing at least 10 people.
The observatory said that another missile landed nearby as medics were evacuating the wounded from the first explosion.
The Observatory says the missiles were fired from a plane and that at least two children were among the killed.
Meanwhile, insecurity and power cuts have cut Syria's daily flour output capacity to 3,000 tons from 7,700 tons since its conflict began in 2011, forcing it into costly imports and causing low stockpiles in some provinces, the regime's prime minister said.
"Importing flour places many burdens on the government. It's not easy to be a flour importer," Wael Al-Halqi told parliament on Tuesday.
Halqi said Syria was importing most of its flour at a cost of $580 per ton to meet daily domestic demand of about 6,110 tons.
He said many of Syria's 57 flour mills have gone out of operation and face problems "in securing electric power and oil derivatives to run off generators."
Other difficulties included "the unsafe conditions for transferring wheat to and from the mills and mill workers' difficulty in reaching their workplaces."
The beginning of winter has made Syria's plight even more urgent, prompting the United Nations to begin airlifting food this month into eastern parts of Syria from Iraq.
"Sometimes the difficulties in securing flour is what leads strategic reserves to reach low levels and vary from one province to another," Halqi said.