More than 230,000 killed in Syria conflict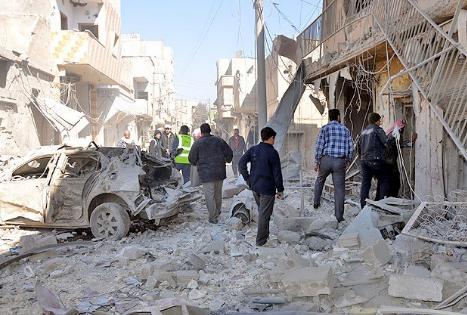 Syria's brutal conflict has left more than 230,000 people dead including almost 11,500 children since it broke out in 2011, a monitoring group said Tuesday.
The Britain-based Syrian Observatory for Human Rights said it had documented the deaths of 230,618 people.
The toll includes 69,494 civilians, among them 11,493 children and 7,371 women.
Combatants account for a majority of those killed, with 49,106 regime forces and 36,464 government loyalists among the dead.
The loyalist fighters killed were mostly members of local militias, but also included 838 from Lebanon's powerful Shiite movement Hezbollah and 3,093 Shiite fighters from other countries.
The Observatory documented the deaths of 41,116 rebels, Syrian jihadists and Kurdish fighters.
Anti-regime foreign fighter deaths numbered 31,247, most of them jihadists.
Abdel Rahman said another 3,191 of those documented killed in the conflict remained unidentified.
The Britain-based Observatory relies on a broad network of activists, fighters, and medics across the war-ravaged country.
May was the bloodiest month of 2015 in Syria, with 6,657 killed — the majority of them regime forces and jihadist fighters locked in fierce clashes on several fronts.
The Observatory's toll does not include some 20,000 people who have disappeared after being arrested, 9,000 people in government detention, and at least 4,000 people held by ISIS.
The monitoring group said thousands of people had disappeared or were unaccounted for after clashes.
As a result, the Observatory estimates that the conflict's actual death toll is likely tens of thousands higher than its figure.